Descripción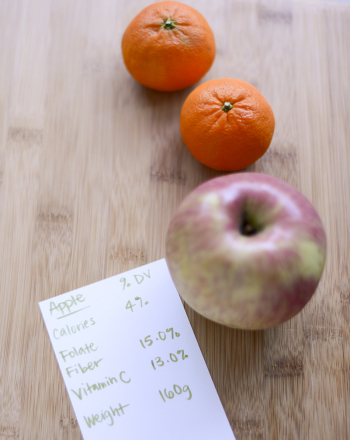 Not all fruits and vegetables are alike. Although whole foods are a healthier choice there is a hierarchy of nutritional value between fruits and vegetables. As the saying goes, "an apple a day keeps the doctor away," but we cannot live on apples alone. Although apples provide fiber and vitamin C they do not provide a sufficient amount of other nutrients. Potatoes, on the other hand, are higher in calories and carbohydrates, but contain only a fraction of the dietary fiber found in apples. Potatoes may make you feel full and give you energy but they do not provide an adequate amount of the essential nutrients. So does a fruit or vegetable's density indicate its nutritional content? In this experiment students will measure the densities of fruits and vegetables, compare their nutrient values, and determine how density and nutrient content correlate. Does a fruit/vegetable's density indicate its nutritional value? Students will measure the densities of various fruits and vegetables to determine if there is a relationship between density and nutritional value.

It is an educational content by education.com.
By clicking on the title of this resource, you will be redirected to the content. If you want to download the project, you just have to join the website, which now is for FREE.