Descripción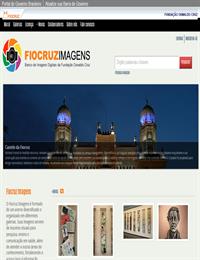 O Fiocruz Imagens é formado de um acervo diversificado e organizado em diferentes galerias. Suas imagens servem de insumos visuais para pesquisa, ensino e comunicação em saúde, além de atender a outras áreas do conhecimento, fortalecendo o acesso livre à informação, política que norteia as atividades da Fundação Oswaldo Cruz - Fiocruz. O acervo conta com as seguintes galerias: Arte, Castelo Mourisco, Comer Pra Quê?, Ensino, Ilustrações, Meio ambiente, Pesquisa, Pessoas, Saúde, Sustentabilidade, Tecnologia, Zika.
Categories Escola Digital, 16-18 years old, 6-8 years old, 14-16 years old, History, Geography, 3-6 years old, Social Sciences, Language and Literature, 8-10 years old, Portuguese, Natural Science, Physics, Chemistry, Mathematics, Adult education, Religion, Image, Portuguese-Foreign Language, 12-14 years old, Visual Arts, 10-12 years old, Biology, Philosophy, Physical education add
Tags add
Publication date 02 / 09 / 2020
License The original license is kept.