Descripción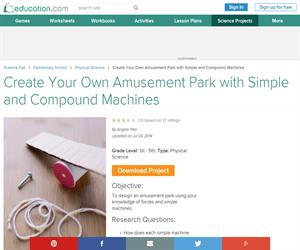 We use machines every day to make our work easier. The compound machines that we use are oftentimes made up of multiple simple machines such as pulleys, levers, and inclined planes. Each simple machine serves a purpose to change force, thus making work easier. Simple and compound machines are not just for work though; they can also be used to create fun such as the rides at an amusement park! Design an amusement park using your knowledge of forces and simple machines.

It is an educational content by education.com.
By clicking on the title of this resource, you will be redirected to the content. If you want to download the project, you just have to join the website, which now is for FREE.