Descripción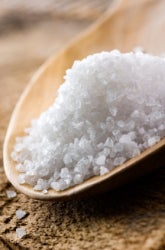 Test water to tell if it has salt content without having to drink it first.
Is there salt in your water? You can easily test this doing a simple science fair experiment. Salt acts as a conductor. That's because when you add salt to water, the salt molecules dissolve in the water and break into smaller parts called ions. The ions carry electricity through the water. Fresh water doesn't have these ions. So it's harder for the electricity to move through the water. It doesn't complete the circuit, and the buzzer doesn't buzz if salt is not present. Therefore, when attached to a battery and buzzer you will be able to determine if there is salt in your tap water, your bottled water, or you can even collect rain water.

______________________________________________
Historia de la Ciencia: En este experimento se utiliza una pila eléctrica de 9V. ¿Sabías que Alessandro Volta fue el científico que inventó la denominada Pila de Volta, precursora de la batería eléctrica?

Te dejamos a mano el experimento traducido al español:
¿TIENE SAL EL AGUA DEL GRIFO?
Tipo experimento: Física
Nivel educativo: Última ciclo de Primaria
Dificultad del proyecto: Medio
Coste aproximado materiales: : $ 20
Problemas de seguridad:
Maneje la batería con cuidado.
No moje la batería.
Tiempo aproximado (requerido para completar el experimento): 1-2 horas
Objetivo: Probar si el agua es salada.
Meta del proyecto: Analizar el agua para saber si tiene contenido de sal sin tener que beberla primero.
Materiales y equipamiento ¿Qué materiales se requieren?:
Zumbador
Batería de 9 voltios
Cinta adhesiva
2 palitos de madera artesanales o de madera
Papel de aluminio
Copas de plástico
Agua salada (agua del grifo y sal)
Papel y lapiz
Disponibilidad de material
La batería de 9 voltios y el timbre se pueden comprar en una tienda de electrónica.
Los palos artesanales se pueden comprar en una tienda de artesanías o en un centro comercial
Introducción
¿Hay sal en tu agua? Puedes probar esto fácilmente haciendo un simple experimento de feria de ciencias. La sal actúa como conductor. Eso es porque cuando agrega sal al agua, las moléculas de sal se disuelven en el agua y se rompen en partes más pequeñas llamadas iones. Los iones transportan electricidad a través del agua. El agua dulce no tiene estos iones. Entonces es más difícil que la electricidad se mueva a través del agua. No se completa el circuito, y el timbre no suena si no hay sal. Por lo tanto, cuando esté conectado a una batería y a un timbre, podrá determinar si hay sal en el agua del grifo, en el agua embotellada o incluso puede recoger agua de lluvia.
Preguntas de investigación
¿Tiene agua del grifo sal?
¿Agregar sal al agua conducirá la electricidad?
Términos, conceptos y preguntas para comenzar la investigación
Electricidad
Conductores
Procedimiento experimental
Reúne los materiales..
Tenga una taza plástica de agua corriente (rotúlela).
Haga que le agreguen otro vaso de plástico con agua y sal (rotúlelo).
Luego cubra sus dos palitos de madera con papel de aluminio.
Tome su timbre y pegue el cable rojo del timbre al positivo (+). extremo de la batería de 9 voltios y el otro extremo al palo cubierto de aluminio.
Pegue una cinta adhesiva al cable negro del timbre mientras pega la otra al extremo negativo (-) de la batería.
¡Estás listo para usar tu probador de agua salada!
Coloque las puntas del metal en el agua salada a una pulgada de distancia. Asegúrese de que no se toquen entre sí.
El agua salada debe actuar como un cable que conecta las barras de metal y completa el circuito haciendo que suene el timbre.
Documente sus resultados.
Bibliografía
Easy Kids Science Projects "Proyectos geniales de ciencia "
PBS Kids " Probador de agua salada "
Ciencia Juguetes " Electroquímica "
___________
It is an educational content by education.com.
By clicking on the title of this resource, you will be redirected to the content. If you want to download the project, you just have to join the website, which now is for FREE.