Descripción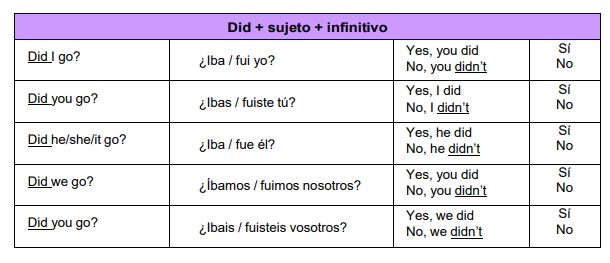 Esta unidad pretende explicar el Past Simple y todo lo necesario para utilizarlo:
Pasado simple: verbo to be
Formación del pasado simple verbo to be
Usos y expresiones de tiempo
El pasado simple de los verbos regulares
Formación
El pasado simple de los verbos irregulares formación
Listado de los verbos irregulares más comunes
Used to
El pasado simple del verbo auxiliar can = could
Formación y usos
Pronunciación
Pertenece a la obra colectiva "Elaboración de materiales didácticos, Módulo IV Comunicación: Inglés Enseñanza Secundaria de Personas Adultas. Currículo Castilla y León", creada por la iniciativa y bajo la coordinación de la Dirección General de Formación Profesional y Régimen Especial (Consejería de Educación, Junta de Castilla y León) con fines educativos.
Disponible en los siguientes formatos



Contenido licenciado bajo CC BY-SA 3.0
Autores
Autor juan carlos sanz bachiller, roberto martín de lucas, soledad isabel rosado herrero, javier arribas gómez, guillermina sabadell zarandona, junta de castilla y león
Categorias 14-16 years old, Spanish, English-Foreign Language, Exercise, Adult education, 12-14 years old, Book, Junta de Castilla y León, English add
Etiquetas add
Fecha de publicación 15 / 02 / 2019
Licencia The original license is kept.